The Anacostia Black Business Expo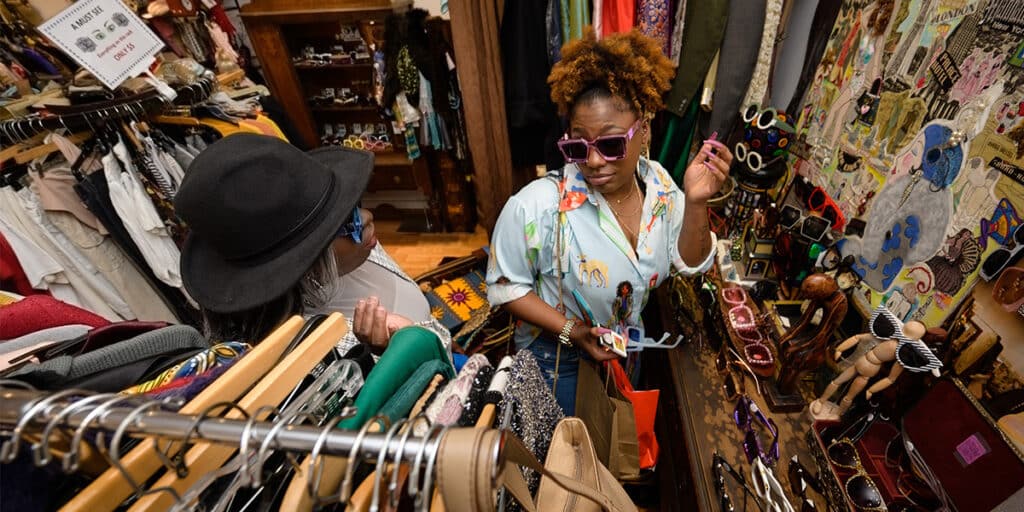 During the 2022 National Cherry Blossom Festival, local entrepreneurs came together for the Anacostia Black Business Expo to demonstrate Black excellence in business. Held at the Anacostia Arts Center in historic Anacostia, the goal of the expo was to showcase the mission and impact entrepreneurs of color bring to the District of Columbia.
Framed by cherry blossoms in every corner, the Anacostia Arts Center was filled with the bustle of creativity, ingenuity, and determination — from jollof rice to custom Crocs, the beauty and diversity of businesses stirred up pride in every attendee.
The event was hosted in part by the Mayor's Office of African American Affairs along with Mayor Bowser to cultivate and strengthen the business economy for entrepreneurs doing business in the District.
Sherri Lumpkin, Founder and Executive Director of the Rag Baby Exchange hosted a doll-making workshop to build self-worth and self-love in children of color. She guided the children as they created a doll of themselves, filled with positive affirmation to replace negative self-talk.
"This work is important in this community because so many of us have negative narratives from the news, in the media and all over …this is the opportunity for them to see their own Beauty, to accept your own Beauty, and to believe in yourself," said Sherri.
There were also book signings, food tastings, and other business showcases available for the community to engage and enjoy.
Briana Graham is the CEO and founder of Black Box Botanical, a house plant and lifestyle shop located in Northwest Washington D.C. Her mission is to revive a culture of gardening to make communities of color more sustainable, including teaching children to nurture and grow plants.
"Urban gardening is traditional in our culture and is necessary, for sustainability, for our ecosystem," said Briana.
While this highlight of African American business is an opportunity to celebrate and support the accomplishments of Black businesses in the District, the same businesses are still looking to decrease the gaps in long-term wealth opportunities.
"I think that there's a lot of flowery talk about what it means to support Black-owned businesses – but to actually engage and enter into a new phase of existence – I think it's important to be very intentional about the kinds of events that we have. Especially because investing in Black-owned businesses in every way possible is important to building relationships with like-minded organizations who are invested in what happens here," said Jess Randolph, Associate Creative Director at the Anacostia Arts Center
The Washington Area Community Investment Fund (Wacif) purchased the Anacostia Art Center in December 2021, to preserve and build the art economy and culture in Historic Anacostia. Wacif supports the Anacostia Art Center's mission and legacy through its programs, funding opportunities, and overall efforts to invest knowledge, social, and financial capital in the Greater Washington Area.