Stewardship
Fiscal Responsibility and Financial Transparency
As a nonprofit community loan fund and certified Community Development Financial Institution (CDFI) through the United States Department of the Treasury, fiscal responsibility and financial transparency are core values that Wacif puts into practice each and every day. These values are central to Wacif's commitment to our investors, donors, partners, and the communities we serve.
Through our operations and portfolio management we continue to serve our mission of economic opportunity through access to capital and expertise while being responsible stewards of the resources with which we are entrusted.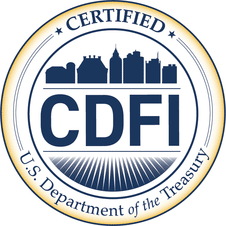 Wacif was one of the first loan funds across the country to be certified as a Community Development Financial Institution (CDFI) by the U.S. Treasury Department through the CDFI Fund, a certification held continuously since its first designation in 1996.
CDFI certification is a designation authorized by the CDFI Fund to specialized organizations that provide financial services in low-income communities and to people who lack access to financing.
Guidestar Nonprofit Information Including Tax Form 990
Wacif received the GuideStar Exchange Gold participation level, a leading symbol of transparency and accountability provided by GuideStar USA, Inc., the premier source of nonprofit information. This level demonstrates Wacif's deep commitment to nonprofit transparency and accountability.
We have worked hard to showcase our progress toward our mission, and our long-held belief in being transparent about our work, to our constituents. As a GuideStar Exchange participant, we use their platform to share a wealth of up-to-date information about our work to our supporters and GuideStar's immense online audience of nonprofits, grantmakers, individual donors, and the media.