October marks the 32nd anniversary of H.R. 5050: the Women's Business Ownership Act, signed into legislation by President Reagan in 1988. The legislation empowers women to independently sign their business loan applications and makes it easier for women entrepreneurs to receive working capital, training, and assistance. Today, women-owned businesses are growing at 2.5% the national average, and women entrepreneurs of color are the fastest-growing population of entrepreneurs in the United States.
According to the American Express State of Women-Owned Business Report, the region's women entrepreneurs are among the nation's top job creators, ranking in the top 10 metropolitan areas nationwide for job creation. However, despite being a driving force in the regional economy, minority/women-owned businesses are worth three times less than Male-owned businesses in D.C. since women/minority entrepreneurs have fewer assets to collateralize, and when loans are approved, the amounts are lower and interest rates higher. The growth trajectory of women/minority entrepreneurs despite these obstacles and the ongoing public health crisis—disproportionally affecting communities of color—are wins worth celebrating.
In the spirit of National Women's Small Business Month, we have highlighted five Wacif clients who exemplify the resiliency demonstrated by many of the women-owned small businesses we serve every day. 
---
Luwam Berhane | Sprouts Town Childcare Development Center
"It's a scary time and we really want to take care of our children… any little thing, any fever, any running nose, and we're freaking out. This is the time to follow the CDC rules and procedures. Do everything they say- and even more, especially when it comes to taking care of children. It's been really tough, but we are going to make it."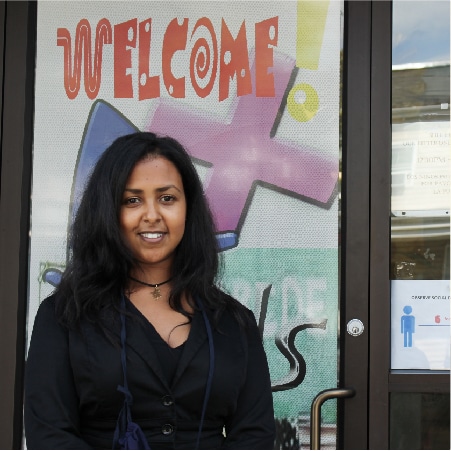 Childcare is essential.
Small business owner Luwam Berhane knows this. It's the reason she opened Sprouts Town Child Care Development in D.C.'s Ward 5 with the mission of helping every child grow and learn through hands-on activities.
After 15 years of business, Luwam couldn't have predicted a pandemic would nearly end that mission. As the District's businesses and schools shuttered in March, Sprouts Town Child Care Development followed suit to protect the children, staff, and surrounding community. Luwam could not reopen her business until the middle of summer, and reopening came at a steep price. She used her savings to purchase plexiglass partitions required by the CDC to keep children isolated in smaller groups. The strict capacity guidelines also meant less children were able to return to the center, and many of the center's caregivers– most of whom are single moms- were unable to return to work. With PPE equipment to purchase, rent to pay, and less income being generated, Luwam and her business were faced with a bleak and uncertain future.
In August, Wacif awarded Sprouts Town Child Care Development a grant through Wacif's Small Business Resilience Fund, which has been used to help pay for the recommended childcare safety equipment by the CDC. Luwam remains optimistic about the future and hopes that things get better. Soon.
Learn more about Sprouts Town here and follow them on Facebook.  
Swati Bose and Kabir Amir | Flight Wine Bar
"Life is short. We decided to live out our dreams now."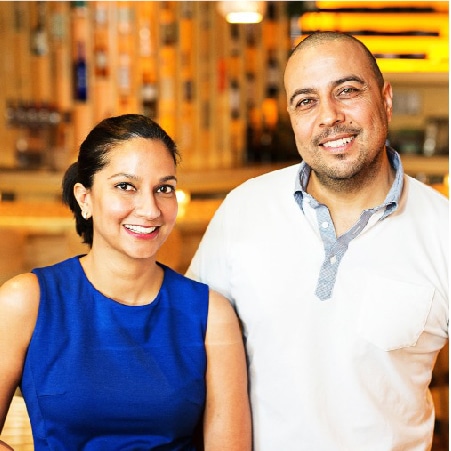 Swati Bose and Kabir Amir always knew they would open a wine bar. They traveled to small towns in Europe together and found inspiration in the hospitality showered upon them. At home, Swati and Kabir enjoyed hosting get-togethers and sharing their love of food, wine, and good company with friends and relatives. Despite sharing the same vision, Swati and Kabir decided to wait until retirement to finally secure their plans. After all, they were in the prime of their banking and law careers in New York City—the city of dreams.  
Plans changed when Swati was faced with a sudden illness that irrevocably transformed their lives. After her recovery, Swati switched careers into the restaurant industry, and once she had enough experience under her belt, the pair moved to Swati's hometown Washington, D.C. "Life is short," said Kabir, "We decided to live out our dreams now." In 2014, they opened Flight Wine Bar in the heart of Chinatown.
Six years later, Swati and Kabir faced another obstacle: the outbreak of the COVID-19 pandemic. The duo continues to rely on their creativity and leadership to pivot their business model. Fight Wine Bar now offers takeout and delivery for food and wine. This change challenged kitchen staff to alter recipes and prioritize ingredients that travel better and stay fresh longer. The team also offers weekly and monthly personalized wine-to-go bags for the bar's regular patrons and this popular service may be here to stay. While the path forward remains unknown, Swati and Kabir continue onward. "Our volume and revenue are down, compared to past years," said Kabir. "Luckily, we have a strong and dedicated team that continues to work hard. Our goal remains to serve guests safely for as long as we can."
Flight Wine Bar is a James Beard Semifinalist for Outstanding Wine Program 2020. Learn more about Flight Wine Bar here, and keep up with the restaurant and bar on Twitter, Instagram, and Facebook. 
Cristina Flores | flowers x flores
"We were in the initial steps of building a co-op, and one of the potential members acquired land- it is a really special thing when a Black woman owns land, and we are so over the moon about it, and are excited for her."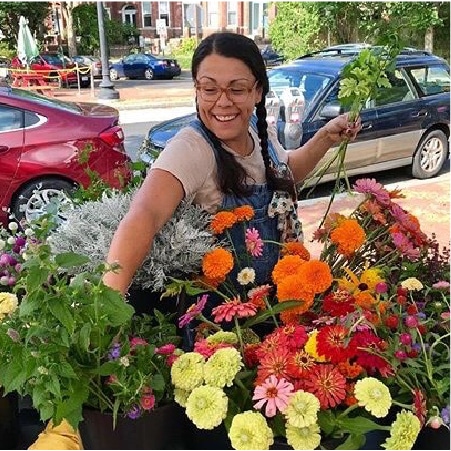 Cristina Flores's passion for growing flowers blossomed while volunteering at Three Part Harmony Farm in NE Washington, D.C. In 2017, Cristina's volunteer work inspired her to change career paths from an interpreter to a farmer.  
Over time, Cristina grew her floristry business, flowers x flores, alongside Three Part Harmony Farm, and now offers a flower CSA, flower arrangement services for events and weddings, and flower buckets for customers to create their own arrangements. Inspired by the slow flower movement, Cristina's flowers are all grown locally, seasonally, and support the ecosystem by providing vital food sources to pollinators. She also uses her perspective as a woman of color working in agriculture to help facilitate conversations around equity in the space, while speaking to her experiences implementing sustainable and regenerative practices that help heal the land.
Cristina was skeptical about whether people would invest in flowers during a global health crisis. To her surprise, the CSA sold out, and she learned that her flowers were bringing customers peace and joy when they needed it most. In May, Cristina successfully applied to the inaugural D.C. Co-op Impact Award, a partnership made possible by Wacif and Capital Impact Partners. Cristina is currently working with two other women of color to create a farm cooperative between flowers x flores, Three Part Harmony Farm, and Deep Roots Farm (MD). One of the many stressors of farming in the city is having a limited lease- Cristina and Three Part Harmony Farm have been operating on a 3-year lease, which limits what they can plant since many crops and flowers take three or more years to mature. Formalizing a co-operative allows them to grow and build lasting partnerships leading to land ownership. During the initial steps of building a cooperative Cristina noted that "One of the potential members acquired land. It is a really special thing when a Black woman owns land, and we are so over the moon about it, and are excited for her."
Learn more about flowers x flores here, and keep up with Cristina's work on Instagram.  
Gabby Lubin | spark by gabby 
"There is some sort of fire that gets ignited within people when see into the light of what opportunity is, and for me personally that light is sparked through my movement, meditation and mindfulness. It's introduced me to a new way of living my life, a new way of telling and support other people through movement."
Sometimes all you need is a spark to jump-start your business. 
For wellness professional and former educator Gabby Lubin, the loss of her full-time job as a fitness instructor brought on by the COVID-19 landscape became the spark igniting her business. spark by gabby is an online (for now) fitness business formed on four pillars: strength, peace, community, and social justice. The instructors at spark by gabby teach a unique approach by having their students bring the mind and body together to alleviate stress. Students and instructors also engage in social justice dialogues via online platforms such as the Humans Not Hashtags Instagram page, where Gabby and three fitness instructors share holistic stories surrounding race and advocacy.
As a young business that started at the onset of the COVID-19 pandemic, spark by gabby faces unique advantages and challenges compared to its competitors, including the ability to be more adaptable as a new business. Wacif awarded Gabby the D.C. Small Business Recovery Microgrant, on behalf of the Office of the Deputy Mayor for Planning and Economic Development and the Executive Office of Mayor Bowser, and she used the funds to help run her business online. For now, Gabby and her team of four instructors (who knew each other prior to the pandemic) teach live classes via Zoom. Classes are recorded and uploaded to the website for students to rent. This digital platform makes it feasible for a larger audience to attend the workout sessions. "I do think in-person sessions are superior to virtual," said Gabby, "but I like being able to reach everyone on their own time. That doesn't mean that I'll give up on virtual."
Are you ready to spark? Healthcare providers, teachers, gig workers, people on unemployment, students, and fitness instructors are all eligible for a 40% discount on spark by gabby classes. Learn more about Gabby's services here and follow their work on Instagram.
Patricia "Pat" Nalls | The Women's Collective
"A lot of small nonprofits are really in need of funding because we're serving the most disenfranchised people. But we're the last to get any kind of help. We need to focus on the small nonprofits that are really serving the community, too. We have to pay attention."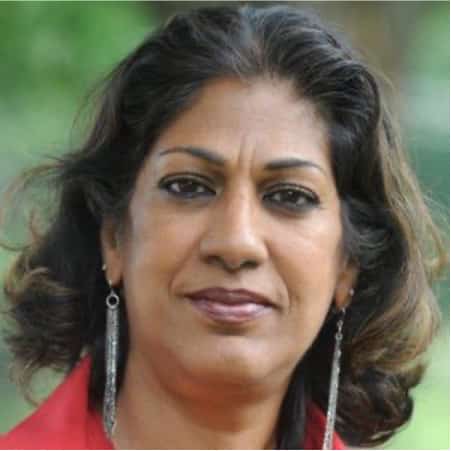 It all started with an anonymous phone line in the 90s. 
Patricia "Pat" Nalls had recently lost her husband and three-year-old daughter to AIDS when she learned that she was HIV positive. At the time, few people understood or acknowledged that women could be, and were in fact, infected with HIV throughout the District of Columbia. Many of the pre-existing support groups were dominated by gay men. Pat often felt like an intruder as a single, working mother of color, coping with two monumental losses and the onset of HIV herself. To seek the support she needed, Pat decided to install an anonymous phone line in her home and passed out flyers about it around town.
"The phone started ringing, and women were calling," Pat said. "None of us wanted to show our faces, so we talked secretly on the phone… sharing experiences and resources on how we were getting through HIV/AIDS."
Over time, women felt more comfortable talking with each over the phone, and that comfort grew into trust and eventually led to coffee meetings and get-togethers at Pat's home. Pat also offered childcare services for mothers when they had doctor's appointments and couldn't afford a babysitter. What Pat was doing – building a support group of women, exchanging resources, directing people to food services – was case management, albeit informally. Pat's small support group of women had grown into a collective, and she needed more space and funding to provide critical services to people with HIV/AIDS. She successfully applied to a grant that allowed her to establish a formal office, and her group would finally formalize into the nonprofit, The Women's Collective.
In 2020, The Women's Collective found itself on the front lines of another public health crisis. The in-person support groups hosted by The Women's Collective are now conducted over online webinars or phone calls. HIV/AIDS tests are completed outside in the parking lot. More recently, the nonprofit distributed food, PPE, and hygiene baskets to their clients, who often travel from SE D.C. to the office on New York Avenue. The Women's Collective paid for each of their rideshares to and from the office.
As the months roll by, COVID-19 emergency funding for small businesses and organizations are running dry, especially for non-profits. "A lot of small nonprofits are really in need of funding because we're serving the most disenfranchised people. But we're the last to get any kind of help," Pat said. "We need to focus on the small nonprofits that are really serving the community, too. We have to pay attention."Earlier this spring, Pat Nalls received the DC Small Business Recovery Microgrant through Wacif, on behalf of the Office of the Deputy Mayor for Planning and Economic Development and the Executive Office of Mayor Bowser, which helped.
In honor of her commitment to women's rights and health advocacy, Pat has been recognized by local D.C. and national media outlets with awards such as 2010 Washingtonian of the Year, NAACP Youth Council Award, Gloria Steinem Award, and much more. Learn more about The Women's Collective here, and keep up with their work on Twitter, Instagram, and Facebook. 
---
Wacif is proud to support entrepreneurs like Swati Bose & Kabir Amir, Luwam Berhane, Cristina Flores, Gabby Lubin, and Pat Nalls. Our team continues to provide critical lending and advisory services to help our clients remain resilient in a time of uncertainty. Learn more about our flexible borrowing options and personal support, and upcoming advisory service workshops to help take your small business to the next level.
Sources:
Dua, A., Mahajan, D., Millán, I., & Stewart, S. (2020, August 07). COVID-19's effect on minority-owned small businesses in the United States. Retrieved October 13, 2020, from https://www.mckinsey.com/industries/public-and-social-sector/our-insights/covid-19s-effect-on-minority-owned-small-businesses-in-the-united-states
Related: