2020 National Black Business Month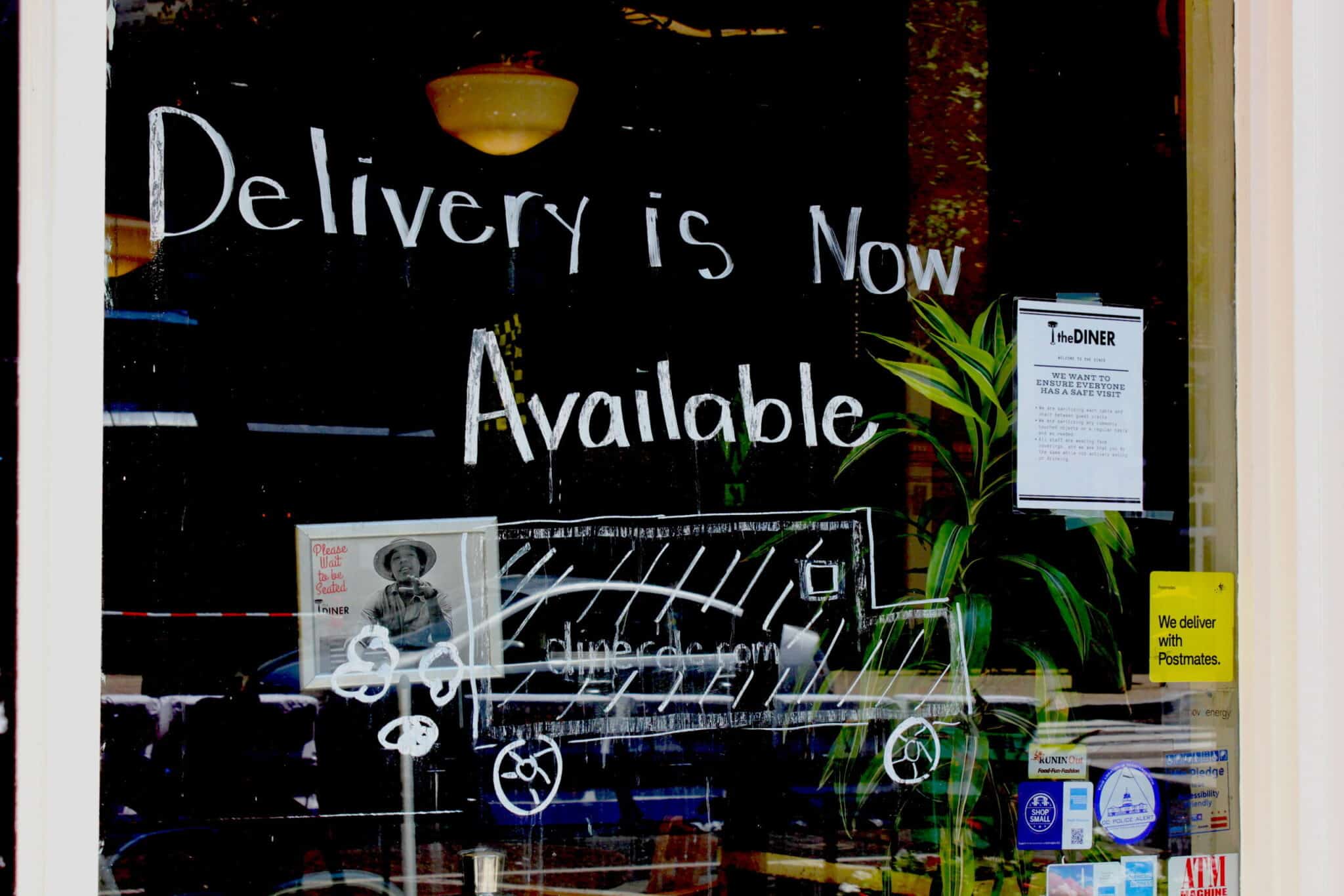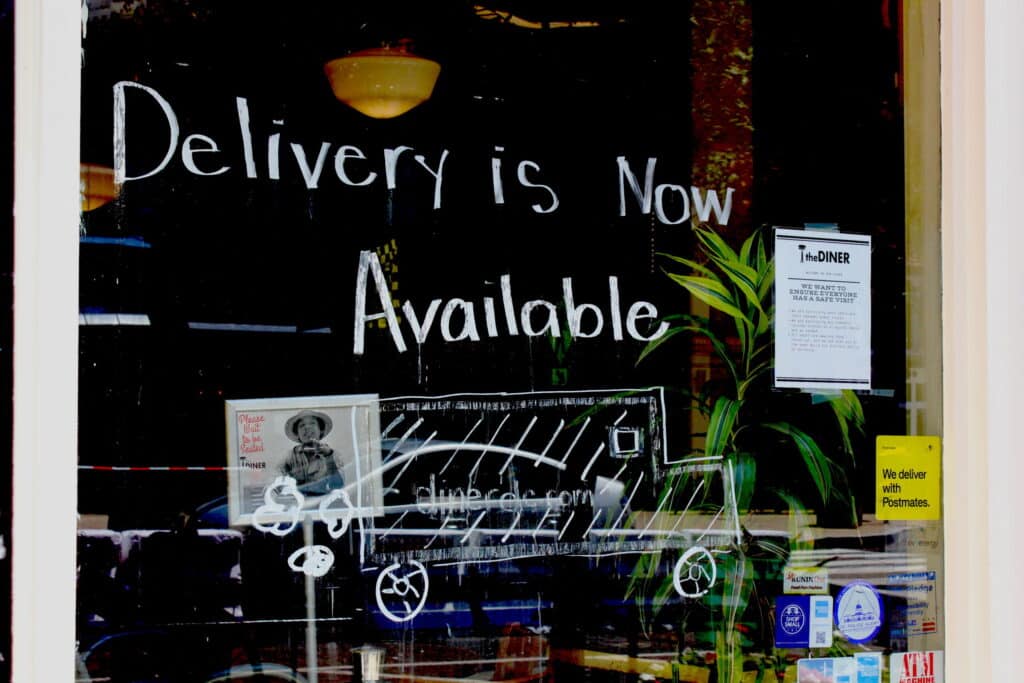 As National Black Business Month comes to a close, we want to take a moment to thank the many Black-owned small business owners and entrepreneurs navigating day-to-day systemic challenges in addition to the hardships brought on by COVID-19. Despite all odds, local entrepreneurs remain resilient while also going the extra mile to support their communities through donations of supplies and services. In honor of your perseverance, we have highlighted eleven Black entrepreneurs that inspire our team every day.
For context, many Black-owned businesses are closing across the nation. According to the U.S. Chamber of Commerce and MetLife, more than 40%, or 450,000 Black-owned businesses, have closed since March. As a Community Development Investment Fund (CDFI), Wacif is in a unique position to help entrepreneurs- especially entrepreneurs of color- weather the storm. Between January and July 2020, Wacif has deployed $4.75 million in capital to more than 1,000 entrepreneurs. To date, Wacif has served 1,503 entrepreneurs through technical assistance programs, loans, and grant funding, and 100% of Wacif borrowers were extended debt relief. Of the clients served to date this year, 30% have identified as Black or African American, and 14% have identified as Black or African American women.
We recognize the systematic disparities many of our clients face and our team remains dedicated to helping build an equitable and just society where communities can prosper and people can thrive through entrepreneurship.
Jessica Swift | Chef Jess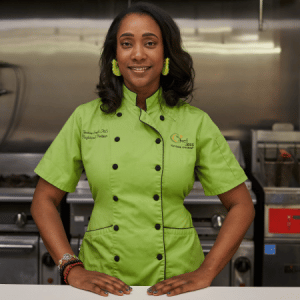 "I always try to bring in local people that care about food. When you hire people in your community, it's more important to them. They want to see the people in their community do better, too."
Wacif Ascend Capital Accelerator graduate, Chef Jess, offers catering, at-home meal delivery, and nutrition consultations to individuals and organizations in the greater Washington area. With a full team of registered dietitians and chefs, Chef Jess remains committed to the original purpose laid out nearly a decade ago: Make healthy food taste good.
In light of the pandemic, Chef Jess has pivoted her business model to support essential workers on the front line combating COVID-19, and families in need. To date, hundreds of meals have been donated, and this is made possible through partnerships with local companies, and organizations including Ronald McDonald House, DC Dream Center, YMCA Capital Area, and Giant Store Workers. Chef Jess also launched a GoFundMe campaign to increase donations towards her free-meal initiatives.
To ensure all staff, and customers, remain safe throughout the pandemic, Chef Jess has reduced the number of staff in the kitchen, implemented split shifts, requires staff to wear gloves and masks at all times, and practices temperature checks prior to each shift. Employees are also required to stay home if they are not feeling well.
Chef Jess is currently offering $20 off meal delivery subscriptions when using the code 20SAFE. Order your meal online today!
Dr. Charlayne Haylin-Williams & Dr. Rod Williams | Community Wellness Ventures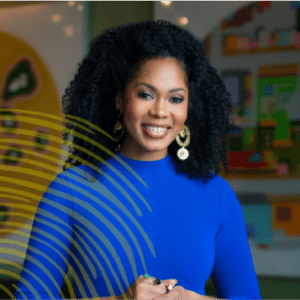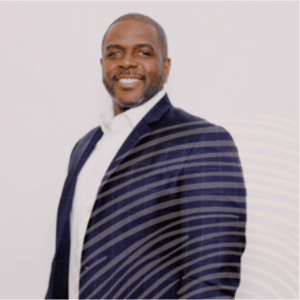 "We believe that health and wellness may only be fully understood in the context of one's comprehensive needs being met…as they define them."
Dr. Rod Williams and Dr. Charlayne Hayling-Williams founded Community Wellness Ventures in Ward 8 to address the systematic barriers and lack of results-based accountability infrastructure, with the goal of reducing health disparities by meeting the comprehensive needs of the individuals served. With over 40 years of combined experience in the areas of mental health, disability, affordable housing, and community development, Dr. Williams and Dr. Hayling-Williams, along with their team of mental health practitioners, have revolutionized the provision of behavioral health care in the District of Columbia by providing the highest level of person-centered care, with the goal of reducing health disparities by meeting the comprehensive needs of the individuals served. Their mission is to create thriving communities by developing and implementing integrative models of care that alleviate poverty.
While the COVID-19 pandemic has drastically reduced foot traffic to the business, Dr. Rod Williams remains optimistic about the future, especially after the District introduced TeleClinic and TeleMedicine as a way for patients to receive help, while keeping the gears of their business running with fewer interruptions.
Learn more about Community Wellness Ventures and their services here.
Dr. Karen Cooper | Comprehensive & Cosmetic Dental Care
"Skill and compassion go hand in hand when providing exceptional patient care."
Dr. Karen Cooper, DDS is owner and founder of Comprehensive & Cosmetic Dental Center, a dental service provider with more than 60 years of experience helping families restore and enhance their smiles. Committed to providing "dental health care" over "disease care," each patient that walks through Dr. Cooper's doors is given a complete dental exam and review of their medical history. "Skill and compassion go hand in hand when providing exceptional patient care," said Dr. Cooper.
Comprehensive & Cosmetic Dental Center is located on Minnesota Avenue Main Street in D.C.'s Ward 7. Faced with disruption from a district-financed streetscape project and the COVID-19 pandemic, Dr. Karen Cooper and her team were able to continue providing exceptional patient care with support from the 2020 Minnesota Avenue Small Business Resilience Fund. Dr. Cooper was also able to purchase air filters, PPE, and cover staff payroll with the grant.
DCist and Wells Fargo featured Dr. Cooper and several DC small businesses in June, highlighting their timely contributions to the DC community.
Learn more about Comprehensive & Cosmetic Dental Center here.
Chris Bradshaw | Dreaming Out Loud & Community Kitchen Cooperative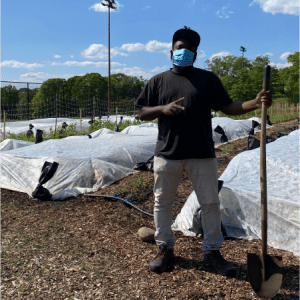 "My goal is to eliminate food deserts in Washington, D.C., and create 100 sustainable jobs with family-supporting wages through a just local food system."
As an urban farmer and Executive Director of Dreaming Out Loud, an organization using food to build resilient communities in D.C., Christopher Bradshaw puts the need for accessible, quality food first.
While advocating for food equity, Chris recognized the immediate need for affordable and cooperatively owned commercial kitchen space shaped towards the needs of food producers of color. With the help of Pinkey Reddick, owner and founder of Pinke's E.A.T.S., the two came together to organize the Community Kitchen Cooperative (CKC), a cooperatively operated, commissary kitchen space supporting caterers and food-makers of color from and within historically disinvested communities. In 2020, CKC received the D.C. Co-op Impact Grant for their work to make food inclusive and produce 1000+ daily meals for vulnerable community members impacted by COVID-19 through their emergency meal production response.
"My [goal][/goal] is to eliminate food deserts in Washington, D.C., and create 100 sustainable jobs with family-supporting wages through a just local food system," said Chris.
Follow Chris, Dreaming Out Loud, CKC, and Pinke's E.A.T.S. to keep up with all things food and co-op.
Mary Blackford | Market 7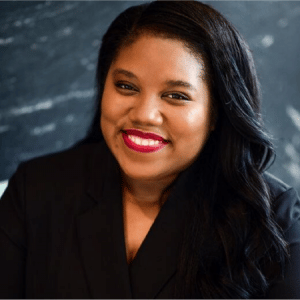 "This is really just going to plant a seed for a blueprint for economic cooperation for our communities going forward."
Minnesota Avenue Main Street entrepreneur and Ward 7 resident, Mary Blackford, started Market 7 to bring fresh food and sustainable groceries to her community. She was tired of commuting across the city to access the quality of food she was looking for, and eventually, she started to wonder whether everyone was doing this commute too. After asking community stakeholders and government officials what it would take to bring a better-quality grocery store to Ward 7, she was told that the medium income in her community was too low to attract the type of grocery she envisioned. Mary knew there was another way and decided to start Market 7.
Market 7 is a community marketplace featuring black-owned businesses for the purpose of alleviating food & retail deserts in Washington, D.C. Mary recently won the Pinesol and Essense: Build Your Legacy, $150,000 grant competition, and will use the funds to open a food hall in the new Benning Market building, at 3451 Benning Road NE, Washington, DC, in 2021.
Learn more about Market 7 here.
Anika Hobbs| Nubian Hueman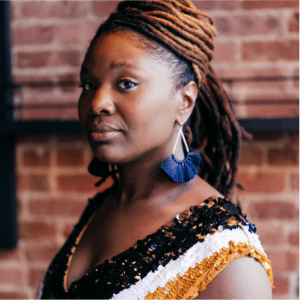 "We break the myth that artists cannot live through their creative abilities which drives us to change the narrative of design around the world… Essentially we are a link that binds creative sustainability and international commerce."
Curate. Create. Celebrate.
These are the three values that Anika Hobbs lives by. Anika is the founder of Nubian Hueman, a social enterprise equipping local and international artists and designers with a platform to distribute uniquely crafted pieces. With brick and mortar stores in Anacostia and Baltimore and an e-commerce website, Nubian Hueman has been able to partner with nearly 500 artists and designers from over 25 countries to bring sustainable, fair-trade products to the everyday shopper.
Nubian Hueman, in partnership with local DC creatives and Building Bridges Across the River, is launching the 2020 Black Love Experience, a digital, immersive event showcasing Black artistry through music, art, wellness, and creative commerce.
Learn more about Nubian Hueman here.
** In need of pop-up, retail space or curbside pickup in Baltimore, Maryland? Nubian Hueman is providing discounted services for businesses in the Baltimore area. **
Pinkey Reddick | Pinke's E.A.T.S.
"My company's goal is to employ those in my community. Having a sustainable business matters; it matters to the four or five people that are permanently on my staff, and those who do temporary work for me doing catering jobs and events."
Wacif Ascend graduate Pinkey Reddick is the founder and owner of Pinke's E.A.T.S., a family-owned and operated food delivery and catering service offering healthy alternatives to traditional food fare in Ward 7.
After noticing that residents in her Ward 7 community had limited access to healthy food options, Pinkey decided it was time to make a change. Since opening her business, Pinke's E.A.T.S. has served countless hungry mouths through their diverse menu options ranging from vegetarian to soul food. More recently during the COVID-19 pandemic, Pinke's E.A.T.S. has provided food delivery services to local DC hospitals through a partnership with the Coalition for Nonprofit Housing & Economic Development (CNHED).
Pinkey is also a recent recipient of the 2020 DC Co-Op Impact Grant for her organization of the forthcoming Community Kitchen Cooperative, a cooperatively operated, commissary kitchen space that supports entrepreneurs of color, from and within historically disinvested communities.
Teresa Hodge & Laurin Leonard | R3 Score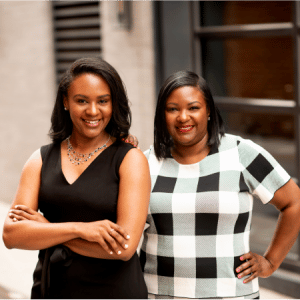 "We are really focused on system change. We've normalized that a third of our country has an arrest or conviction record. We have to normalize and come up with solutions and systems to help those individuals and family members get back on their feet."
In 2017, mother-daughter team Teresa Hodge and Laurin Leonard launched R3 Score, a Baltimore-based startup that creates an alternative credit score that accesses the potential risk of formerly incarcerated applicants. Co-founder Teresa Hodge uses her own experiences as an African American woman over the age of 50 with a criminal record to address the inequalities rooted in America's criminal justice system. One in three citizens—70 million Americans—have an arrest and/or criminal conviction record, and this record affects people's ability to seek employment, banking services, education, and housing for the rest of their lives.
In 2019, Wacif invested in R3 Score by contributing $25,000 towards a pre-seed investment round of $500,000. The collective investments enabled Teresa and Laurin to attend and graduate from a Techstars accelerator in October. Prior to the investment, Wacif worked with Teresa and Laurin for about a year and a half to help the founders develop and launch R3 Score.
More recently, Teresa and Laurin have responded to an urgent call-to-action rooted in the disproportionate impact of the pandemic on minority communities. During the previous recession, individuals with records faced as high as 50-60% unemployment rate, and if individuals with a criminal record are locked out of the competitive market again, millions of people will face unemployment. Their goal is to provide 10,000 unique assessments of former inmates over the coming 24 months. Additional resources are being added to the R3 Score website to help guide individuals on the process, along with information on the rights of formerly incarcerated people, best practices for job hunting, etc. A chat-box feature is also in the works to help expedite and guide the process of receiving an R3 Score.
Beyond the score, Teresa and Laurin are working on bringing together a marketplace of businesses and hiring managers still interested in engaging their customers.
Learn more at www.r3score.com.
Rahama Wright | Shea Yeleen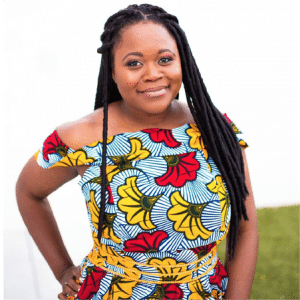 "We care about the global community. We believe that business has an equal responsibility to make profits while benefiting and making change in the communities in which we do business."
Since 2005, Rahama Wright has been empowering communities from DC to Ghana with her company Shea Yeleen.
Shea Yeleen is a DC-based beauty retailer and social enterprise which partners with women-owned cooperatives in Ghana to turn shea seed into shea butter, the source of non-toxic, pure beauty products that restore health to customers and build livelihoods in Ghana. Shea butter producers across West Africa are often women that make as little as $2 a day. Shea Yeleen's network of women producers receives fair pricing and micro-enterprise development to gain the skills and experience needed to eventually establish their own small businesses. Rahama is creating a sustainable business cycle that benefits not only the consumer but the women transforming seed into butter as well.