The District Awakened in Cultural Celebration for Art All Night 2022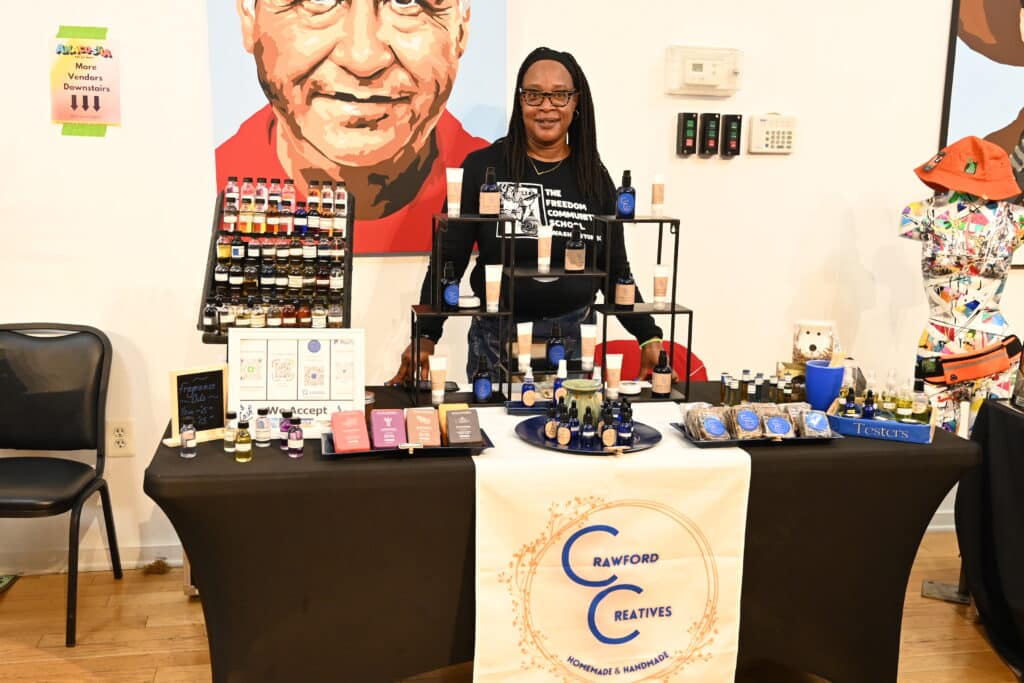 Originating in 2011, Art All Night is an annual celebration of art and culture in Washington DC, celebrated in 22 different neighborhoods. In 2020, the festival was extended to an entire weekend to boost the business economy post-pandemic. The city now welcomes over 120,000 attendees.
People of all ages came to enjoy diverse activations of jazz music, a freestyle dance contest, theatrical displays, community-designed banners, cornhole games, live art, food trucks, and more on September 23-24. Artists carried colorful canvases splashed with caricatures, figures, and shapes, joyful to share their creations. Small, local businesses were fully engaged, bringing their best products, including soaps, candles, sweatshirts, and sweets.
Art All Night @ Minnesota Ave Main Street
"It's great to bring the community together and let them know we care about their wellbeing in a celebratory, safe environment where everyone can just be together. I don't think we do it enough. Everybody deserves to have some type of enjoyment," said the Chief Program Officer of Washington Area Community Investment Fund, Kimberly D. Gayle, to the track of "Let's Stay Together" by Marvin Gaye.
The classic song played over the loudspeakers at the Minnesota Ave Main Street Art All Night celebration to the perfect backdrop of a legendary mural featuring Mary Mcleod Bethune, Sammy Davis, Jr., Martin Luther King, Jr., Billy Holiday, and other cultural icons. Dorothy I. Height/Benning Neighborhood Library screened two documentaries for the first time, sharing the journey of Barry Farms and go-go music.
Nina Carpenter, from the DMV League of Artists, led a community project as an opportunity for community members to participate in painting a piece of a puzzle. "This puzzle reflects how all the unique members of the community complete one another," she explained.
Nearby, a twelve-foot-long table covered a large white cloth banner filled with colorful hands traced by children in neon yellows, greens, and blues. The community banner project invites Ward 8 residents to trace their hands on the banner and to write helpful solutions such as "picking up trash," "being kind," and "stopping violence" inside the hand.
"We're helping youth to be a part [of the solution], helping to promote peace and not violence. They see so much violence whether on TV or in front of their homes. This is an activity that's kind of therapeutic. They can take control and say I can do something about it," said Irwin Royster, the Director of East of the River Family Strengthening Collaborative.
"We're using art to progress social justice issues…I grew up on Benning Rd. I've been up and down this road all my life. This is how I put my voice out there," said community artist Vonne Napper.
Along with artists and residents, support organizations such as the DC Commission on the Arts and Humanities, The Trigger Project, and East River Family Strengthening Collaborative set up tables with brochures and giveaways to bring awareness to their solutions.
The Trigger Project, a gun violence prevention organization, showed up with a wheel of emotions where community members can view and identify their feelings.
"We're hoping to change the narrative about gun violence, to talk about it as a mental health issue, a disease, rather than 'let's get the guns off the street,"' said John McCormick, the Director of Operations of The Trigger Project.
Art All Night @ Anacostia Arts Center
The evening was full of purpose-driven leaders, social entrepreneurs, and mission-centered artists, each with her unique story reflecting the diversity, history, and culture of the District.
"I came out to support. I think it's great to see people with various art forms and the community celebrating them. Art helps make life worth living," shared historian and author James Morgan III.
Good Hope Road glowed with purple and red lights to the sounds of Michael Jackson as artists, residents, friends, and entrepreneurs flowed in and out of the Anacostia Arts Center.
The center bustled with creatives and makers displaying exuberant styles, hair, and fashion as their craft. Here was the place where everyone stood out. A candle maker shares a rainbow of scents as diverse as the room. She calls her business Beautiful Brown Rainbow—a reflection of the creativity, inspiration, and purpose exchanged around her candle-filled pop-up.
"This is important because it gives us the opportunity to grow and build community with other vendors. I have an arts and crafts company. I sell candles, but I also teach people how to make candles… Anacostia Arts Center is a great resource for entrepreneurs," said Katrina Norman as she shared her labor of love.
Twenty feet away, NerdCool Apparel founder and creative Moe N. Reid affirmed her right to be unique and bold with her NerdCool line of shirts and accessories.
"People who consider themselves nerds are artistic. They're creative. They can make great music, fashion… They're the bomb to be around, so why does being a nerd have to be a stereotypical thing?" asked Moe as more buyers approached the clothing rack for anime lovers, introverts, and self-pronounced geeks. "Don't let others define what it means to be cool."
Two Communities United
Both places, the Anacostia Arts Center and Minnesota Avenue Main Street exist to build community spaces where entrepreneurs of color can shine. The Washington Area Community Investment Fund will continue to support the education and empowerment of underserved entrepreneurs through capital and community.
The center featured chefs selling spices, live artists sharing their creations, DJs mixing music, and an explosion of entrepreneurial and artistic treasures for the community to celebrate.
At Art All Night, everyone united under one bold mission to heal the community, change the narrative, and accelerate change.