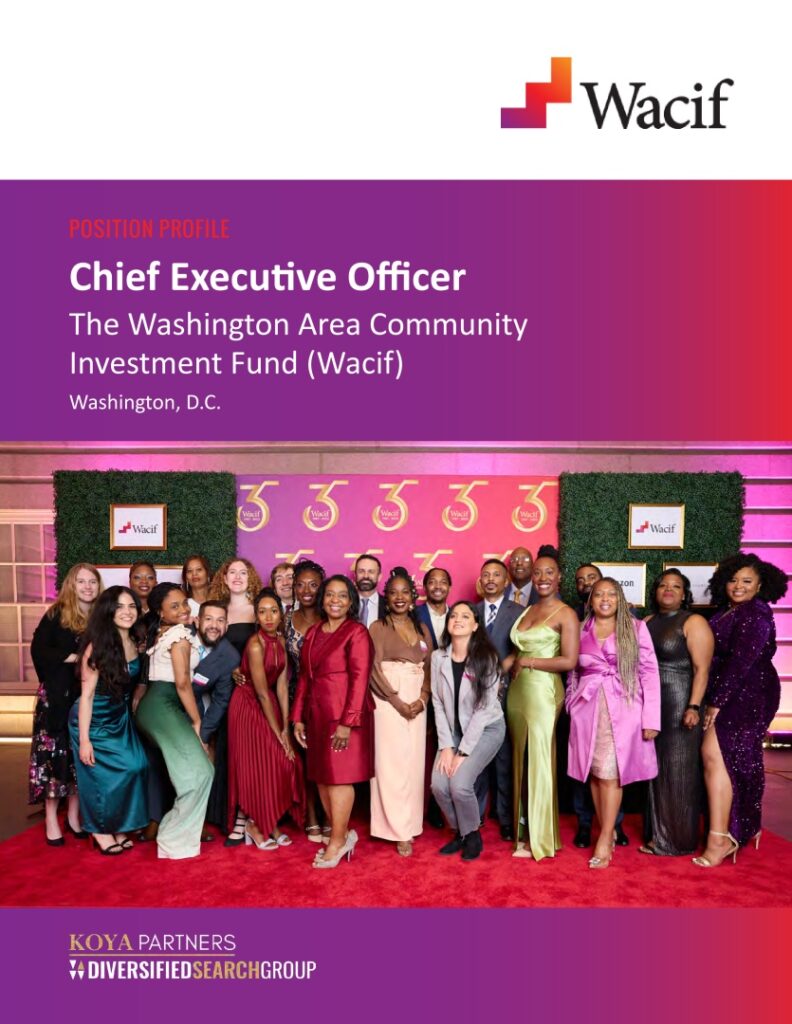 About The Washington Area Community Investment Fund
Wacif, a Community Development Financial Institution (CDFI) established in 1987, is a mission-driven organization dedicated to promoting equity and economic opportunity within underserved communities in the Washington, DC area. This mission is driven by three strategic pillars: inclusive entrepreneurship, community wealth building, and equitable economic development, and is fulfilled by providing access to capital products and services, and capacity building technical assistance to low- and moderate-income entrepreneurs. Today, Wacif is led by a Board of 15 and a staff of 40 and has a $9 million annual budget and total assets of $22 million with net assets of $11 million.
Lack of access to capital is one of the most common reasons small businesses do not succeed. Wacif serves as a mission-based lender and works with business owners to identify the best financing possible to meet their needs and goals. The organization also understands that being a small business owner is challenging. The advisory serves team at Wacif offers one-on-one guidance and group sessions and events designed to help owners grow their businesses. Learning how to write a successful business plan, understanding what bankers look for, determining the best way to manage business operations including your taxes, accounting, employee insurance, payroll and marketing are all areas where Wacif supports its clients.
At this exciting time in its history, Wacif has embraced a 'Forward Equity' multi-year vision that will enable the organization to ambitiously scale impact by 2030. In doing so, Wacif will deepen the region's access to knowledge, social, and financial capital and invest in place-based solutions to address the economic disparity in the area. The organization will undertake a formal strategic planning process in 2024 to establish a framework to support and expand upon this vision.
At its core, 'Forward Equity' supports Wacif's existing, proven programs and services while building capacity to invest in new, innovative initiatives to drive equity and opportunity across the region. By scaling our annual investment and services year over year, Wacif seeks to accelerate impact and build community wealth in the region's underserved communities, deepen investment in DC's Wards 7 and 8, and grow its footprint in Maryland and Virginia to drive regional equity and opportunity. Specific goals include investing $100 million in local communities, reaching 5,000 underserved entrepreneurs with advisory services, and helping entrepreneurs create or retain 100,000 local jobs, among others.
In addition to the core lending and advisory services outlined above, Wacif also offers signature initiatives designed to meet entrepreneurs where they are, provide customized support, and help them create opportunity and wealth in underserved communities. These include:
Ascend Capital Accelerator
Launched in 2017, the Ascend Capital Accelerator program provides entrepreneurs of color with the ability to accelerate business growth, receive financial and management training, and access affordable loan capital. This hands-on, 8-week asset-based development program consists of an interactive workshop series combined with small group matching and individualized support to build human and financial assets with local small businesses. The program is powered by the Washington Area Community Investment Fund to bridge the gap between the small business ecosystem and programs available to assist non-tech, high-growth entrepreneurs seeking to grow their ventures.
Enterprising Women of Color DMV Business Center
The Enterprising Women of Color (EWOC) District, Maryland, Virginia (DMV) Business Center fosters and supports a small business ecosystem for women of color in the National Capital Region. The Center's robust business services—including financial capital, business advisory services, and networking support—are dedicated to supporting the growth and resiliency of their clients. This Center is powered by the Washington Area Community Investment Fund which has served women of color entrepreneurs since 1987.
In December 2021, Wacif purchased the Anacostia Arts Center (AAC) to drive equity and opportunity while honoring and uplifting support for the creative economy. With the redevelopment of this property, Wacif will deliver on its mission to drive economic opportunity east of the Anacostia River and increase programming tailored to entrepreneurs of color.
Wacif is reimagining the AAC as the region's largest hub for inclusive entrepreneurship. The new space will honor the AAC's importance to the creative economy, providing resources for small businesses alongside an expanded Black Box Theatre, a marketplace, an art gallery space and The HIVE, a co-working space serving more than 70 entrepreneurs. This project protects the AAC as a community asset and platform for economic opportunity and invests in its expansion and redesign to build a state-of-the-art facility. The reimagined AAC will increase equitable access to financial capital and advisory services for underinvested entrepreneurs and increase access to healthy food options. A new AAC will also offer Historic Anacostia increased foot traffic and economic stimulation. This will ensure the community prospers in place, combats existing hardships, and builds wealth along the way.
In December 2021, The HIVE was acquired by Wacif, with the goal of continuing and accelerating The HIVE's mission and purpose within the community. Wacif works with small businesses, community members, and partners to help local entrepreneurs scale their businesses, prosper in place, and generate community wealth in their communities.
Impact to Date
44,500 jobs created or retained
4,530 entrepreneurs served
$100 million in grants and loans disbursed
9,750 hours of advisory services provided
For more information on Wacif, please visit website.
The Opportunity
Wacif is seeking a transformational, strategic leader who embodies the values and goals of Wacif and possesses the vision and skills to bring the organization to the next level. Working in partnership with the Board of Directors and a highly-skilled staff, the CEO will drive the growth and impact of the organization through operational excellence, discipline around business practices, community engagement, a deep commitment to equity and a client-focused approach to programming. This is an exceptional opportunity for a visionary leader, with a deep belief in the power of capital to transform communities, to lead Wacif to its next level of impact regionally.
The CEO is responsible for the achievement of all operational and strategic goals, including capital development, fiscal management, lending and other programming, board relations, staff oversight, community relations and engagement, and administrative matters.