You've worked hard all week; now it is time to unwind with Feel Good Saturday!
Join us for a day of refreshment and rejuvenation at the Anacostia Arts Center. The team selects demos, workouts, tastings, etc., all tailored to make you #feelgood.
This month's Feel Good Saturday line-up features yoga, reflexology classes, and double dutch – all led by Black women.
*Donations are encouraged
---
Schedule:
11:30 AM | Yoga with Talaya Whipple
12:30 PM | Aqua Chi Footbath Demonstration with L K'ami B'ay A'kan
1:30 PM | Double Dutch + Juicing Chat featuring Soulflexology with Whitney Franklin
---
Meet Your Instructors
Talaya Whipple | Yoga Instructor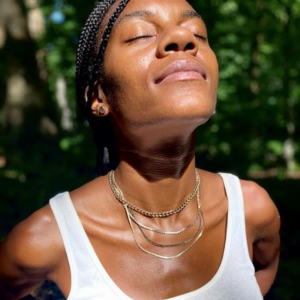 Talaya Whipple is a lover of many things.
Born and raised in D.C., Talaya is a fourth-generation Washingtonian. Due to inner-city happenings, Talaya adapted to a course and surroundings guiding her gracefully towards yoga, and its wonderful pleasures.
Talaya is a self-taught yogi proud to expand her love and offerings to all.
L K'ami B'ay A'kan | Infinite Health Healing Wellness LLC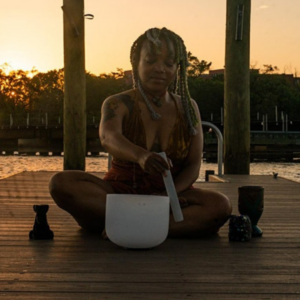 The Aqua Chi Foot Bath is a water energy system that uses proven, advanced technology to help restore the body's natural balance. This practice promotes vitality by restoring cellular energy. Many of the benefits can be attributed to the re-balancing of energy meridians and raising the bioelectrical potential of the body at the cellular level.
In her Aqua Chi Footbath Demonstration, L K'ami B'ay A'kan will teach us how this method can help you better understand your body.
Whitney Franklin | Founder, Live Your Freedom, Inc.

Whitney Franklin is a native of Richmond, VA currently residing in Washington, D.C. She relocated to the District to join the United States Capitol Police Force. After seven years of service with the USCP, Whitney decided to focus on community movements.
In 2016, Whitney founded Live Your Freedom, Inc, a nonprofit catalyst assisting the development of District residents and communities. Whitney developed and trademarked a self-development program known as SoulFlexology, which is the study of self to induce mental, physical, spiritual, and emotional development. She currently serves District government agencies and private organizations, including D.C.'s Department of Youth Services, Mayor's Office of Returning Citizens Affairs, Office of Gun Violence Prevention, and Anacostia Arts Center.
Whitney has a BA in Criminal Justice from Fayetteville State University and a MA in Education with a specialization in Culturally Responsive Education from Ashford University.